Olives Blog
Online Classes 202028th Jun, 2020
Respected Parents
Assalam-o-Alaikum
We are going through a time of major upheaval to our normal routines and ways of life and there's a great deal of unusual disturbance around us. While no one is sure yet how long this online learning will continue, but we know that it won't last forever, inshaAllah.
Children take cues from parents and teachers' behaviour and attitudes, so it is important to communicate calm, confidence and optimism that we will pull through the crisis together. Managing our own emotions and problems will help our children stay focused on learning.
Online classes for Grade 3-10 have been planned till the Government allows schools to be reopened.
The guidance below will help you to make the best of new and unfamiliar distance learning. It will help you to be ready for more practical aspects of learning from home.
Select or set up an area that's dedicated to online class, make sure it is quiet, free from distraction and has a good internet connection.
Monthly evaluation will be based on assignments and attendance. Objective is to ensure maximum attendance and practice of concepts done in the class.
Students will do the exercise on loose sheets and write assignment number on top of the sheet along with topic and date to keep record of topics done in the class.
Students will keep the assignments in a clear bag provided by school.
Assignments and written work for correction will be submitted to school at the end of every month. Date and day will be shared in the relevant WhatsApp group. As it is known to you that due to COVID-19, teaching staff is not available in school except for fixed days, so kindly drop the solved assignments on due date so that assignments can be checked on time.
Profile pictures and status of ALL group members should NOT be objectionable.
Remind your child to be polite, respectful and appropriate in their communications and to follow school guidelines in their interactions with teachers and class fellows during class.
Video or audio recording of online class is NOT allowed.
In case your child can not attend the class, the teacher will not teach that topic again. Like regular school policy, you have to contact his/her class fellow for missing work or take help from solved images/notes shared in the relevant WhatsApp group.
Maintain healthy parent teacher relationship and positive interactions. Teachers will MAINLY be communicating regularly through online class, students are encouraged to ask questions there or the next day during class. If the students or parents have concerns let relevant coordinator know through a text or short/to the point voice message between 1:00pm to 4:00pm but understand it may take few hours or a day for us to respond. (Calls will NOT be entertained)
Parents are NOT allowed to disturb the class at any stage. Teachers will only entertain student's query during the class.
Traditional school days provide students a disciplined life, this is hard for parents to replicate it in distance online learning so look for the things that can be used as reward for your child.
Please download Zoom app. You can watch the video Tutorial for downloading and understanding zoom app on YouTube.
Principal and teachers will keep you updated with other instructions in the relevant WhatsApp groups.
Jazakumullah khairan for your cooperation.
---
Kashmir Solidarity29th Aug, 2019
Update
We are grateful to all the parents for encouraging and sending their children to participate in the cause. May Allah bless the people of Kashmir with freedom.
Click to view the pictures of the occassion.
Respected Parents
Assalam o Alaikum
Olives School will be joining hands tomorrow with the rest of Pakistan to show our solidarity and commitment for Kashmir.
Students of Class 3 and on wards along with the Teachers will participate in the solidarity stand at 12 noon inshaAllah.
Parents are requested to send their child to school along with a cap/hat, glasses and a water bottle. Off time will be 12:30pm
Off time for Play Group to Class 2 will be 11:30am
---
Safety Measures for Dengue Fever27th Aug, 2019
Government team from the Health Department visited the school to spread awareness about the Dengue Fever and how can it be prevented from spreading. According to the guidance provided by the team, the school will inshaAllah ensure that all measures are being taken for the prevention.
Parents are also guided to ensure the following in their own premises and domain:
Wear full sleeves shirts and full leg covering trousers.
Apply mosquito repellent on uncovered parts of body before going out and sending your child to school even.
Don't let water stay in garden, plants, washrooms, inside and outside your house.
Make sure windows and doors screens are closed to avoid allowing mosquitoes into in-closed spaces.
Avoid areas with standing water. Especially at times of high mosquito activity like dawn and dusk.
Last but not least recite dua of protection and remind your children as well.
بِسْمِ اللَّهِ الَّذِیْ لَا یَضُرُّ مَعَ اسْمِهِ شَیْ ءٌ فِیْ الْاَرْضِ وَلَا فِی السَّمَآءِ وَھُوَ السَّمِیْعُ الْعَلِیْم
"In the name of Allah, with Whose name nothing can cause harm on earth or in the heavens and He is The All-Hearer, The All-Knowing."
Your cooperation is highly appreciated.
About Us
Olives School aims at providing academic excellence in an Islamic atmosphere and a quality learning environment to build and develop an integrated Islamic identity. The school which involves students, teachers and parents - will promote the spiritual and moral values consistent with respect and good citizenship within the society. The school aims to provide a well balanced instructional program that will enable all children to reach their highest level of academic success and become leaders in different professions.
Student Sponsorship
You can sponsor the education of a student of Olives School by filling out a simple information form and monthly contribution.
Your sponsorship will help pay for the complete education of the student for the duration committed. This includes tuition fee, books, copies and any other charges.
We accept Zakat money separately but sponsorship should not be from your Zakat. For further details you can contact our team.
Tweets from Olives
Dated: 3rd Sep 2021
Respected Parents
Assalam-o-Alaikum

As per government's notification, school will remain closed for students from 6th September till 11th September. Admission & Accounts office will remain open from 8:30am till 11:30am.

Jazakumullah Khairan
---
Dated: 17th Aug 2021
Respected Parents
Assalam-o-Alaikum

School will remain closed on Wednesday, 18th August and Thursday, 19th August due to 9th & 10th #Muharram. School will reopen on Friday, 20th August.

Jazakumullah Khairan
---
Dated: 16th Aug 2021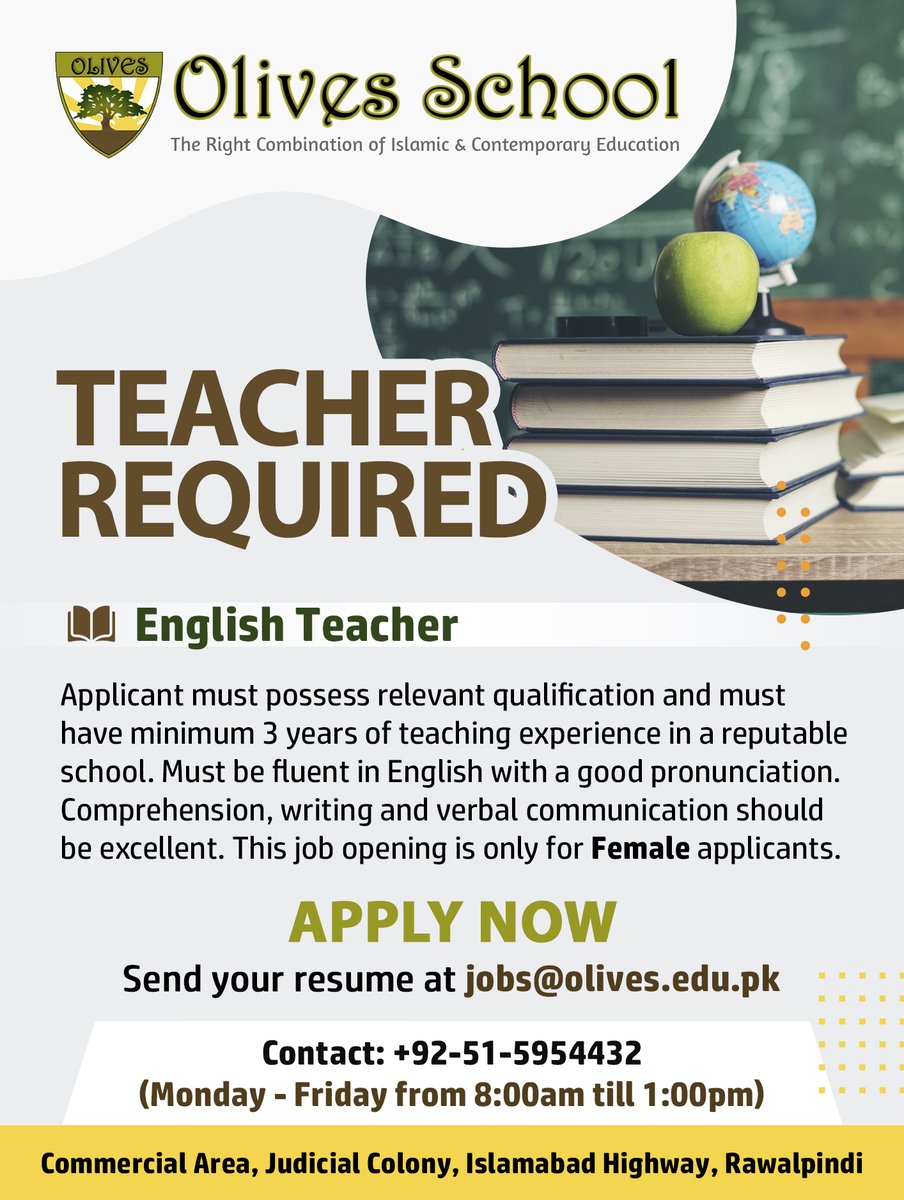 If you passionate about teaching and want to join an Islamic School as an English teaching, we have the right #JobOpportunity for you. Send you CVs to jobs@olives.edu.pk or directly visit the school during working hours for a walk-in interview. #JobOpening
---
Dated: 9th Jun 2021
Respected Parents
Assalam-o-Alaikum

Revised summer timings:

Play Group:- 8:00am - 11:05am
KG 1 & KG 2:- 7:15am - 11:05am
Class 1-9 & Hifz :- 7:15am - 11:45pm

Friday off time will be 11:05am for all classes

Gate opening/closing time: 7:00am - 12:15pm

Jazakumullah Khairan
Contact Us
Email: info@olives.edu.pk
Junior & Girls Senior Campus
Commercial Area, Judicial Colony, Islamabad Highway, Rawalpindi, Pakistan
Academics Office: +92-51-5954432
Account Office: +92-51-5954242
Boys Senior Campus
House 96, Street 3, Sector 2, Airport Housing Society, Rawalpindi, Pakistan
Contact: +92-51-8460149, +92-51-8460150