Olives Blog
Upholding a Victory on International Literacy Day12th Sep, 2016
Oxford University Press, a department of the University of Oxford, organized an event to proclaim International Literacy Day to commemorate the need for awareness about accentuating the vitality of literacy.
Like Every year, Olives School partook the event with around 12 students aging 10 – 16 years with other competing schools from the vicinity naming Joan McDonalds School, Islamabad, The Smart School Islamabad and Pak-Turk International School, Islamabad. The students were part of the many activities scheduled for the event which included:
General Knowledge Quiz
Newspaper Detective
Gallery Walk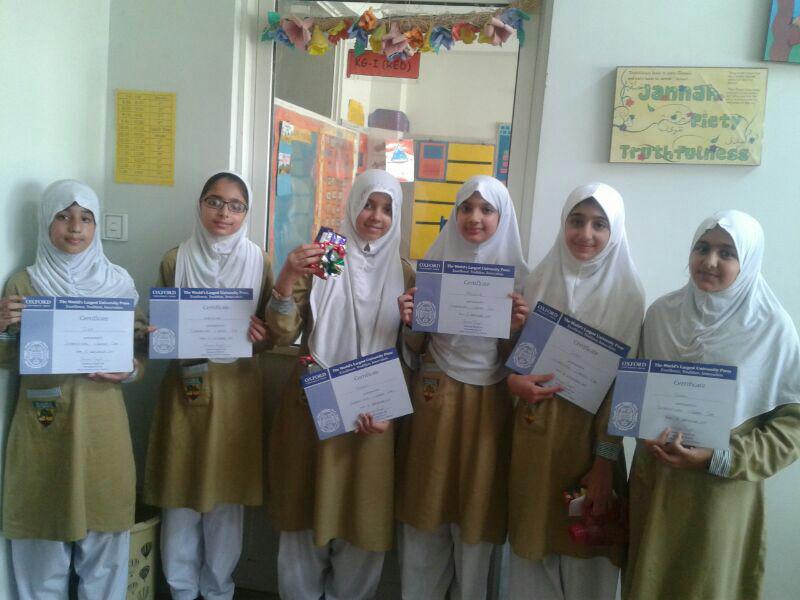 The students of Olives School managed to sustain their victory in all the above mentioned activities which led them to a favourable result at the end getting rewarded by certificates and a prize.
We hope that our students would continue maintaining their accomplishments in every field in future as well. InshaAllah
Tweets from Olives
15 May 2017
For easier & effective notifications for the parents, we now have a @Telegram Channel. Join and stay informed…
twitter.com/i/web/status/8…
10 Apr 2017
#JobOpening for #Maths #Teacher for Primary & Higher classes in #School. #JobOpportunities #Mathematics #Teaching…
twitter.com/i/web/status/8…
31 Mar 2017
Really #thankful to @naiyyer & @immikhan7 for #volunteering on the #Annual Day. #JazakAllah khair, may #Allah reward you for your efforts!
31 Mar 2017
Upload the Montage of #School #Annual Day 2017. May #Allah guide #Muslims to actually #BeLikeMuhammad (s.a.w)
vimeo.com/210929116
Contact Us
Commercial Area, Judicial Colony, Islamabad Highway, Rawalpindi, Pakistan

info@olives.edu.pk

Academics Office: +92-51-5954432
Account Office: +92-51-5954242