Olives Blog
Upholding a Victory on International Literacy Day12th Sep, 2016
Oxford University Press, a department of the University of Oxford, organized an event to proclaim International Literacy Day to commemorate the need for awareness about accentuating the vitality of literacy.
Like Every year, Olives School partook the event with around 12 students aging 10 – 16 years with other competing schools from the vicinity naming Joan McDonalds School, Islamabad, The Smart School Islamabad and Pak-Turk International School, Islamabad. The students were part of the many activities scheduled for the event which included:
General Knowledge Quiz
Newspaper Detective
Gallery Walk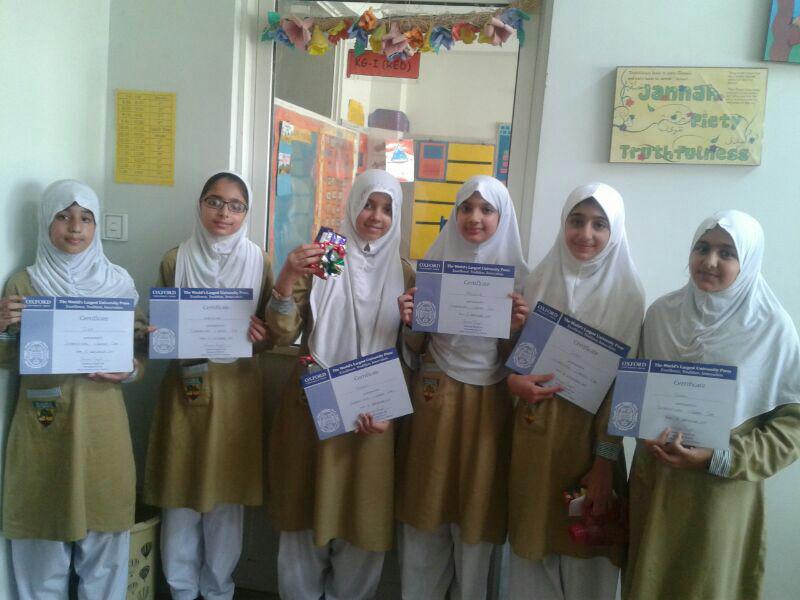 The students of Olives School managed to sustain their victory in all the above mentioned activities which led them to a favourable result at the end getting rewarded by certificates and a prize.
We hope that our students would continue maintaining their accomplishments in every field in future as well. InshaAllah
Tweets from Olives
Dated: 23rd Nov 2020
2/2

Please make necessary arrangements for online classes. Download ZOOM App & watch tutorials on Youtube for its better understanding. Recordings will neither be available nor allowed.

Further details will be shared in WhatsApp groups.

Jazakumullah Khairan
---
Dated: 23rd Nov 2020
Respected Parents
Assalam-o-Alaikum

As per government notification, school will be closed for students from Thursday, 26 November 2020. Online classes will commence from Monday, 30 November 2020 for all classes including Montessori & Hifz.

1/2
---
Dated: 16th Nov 2020
Respected Parents
Assalam-o-Alaikum
Government has decided NOT to close the schools due to #COVID19 situation.
#School will remain open unless the local government announces the closure due to road blockade in some areas of #Rawalpindi & #Islamabad.
Jazakumullah Khairan
https://twitter.com/DrMuradPTI/status/1328238932895690752
---
Dated: 9th Nov 2020
@irfantq @MishkatWT For those who cannot afford education, @MishkatWT has a separate charity school @IslahSchool with only PKR 350 fee per month along with free books.
Contact Us
Email: info@olives.edu.pk
Junior & Girls Senior Campus
Commercial Area, Judicial Colony, Islamabad Highway, Rawalpindi, Pakistan
Academics Office: +92-51-5954432
Account Office: +92-51-5954242
Boys Senior Campus
House 96, Street 3, Sector 2, Airport Housing Society, Rawalpindi, Pakistan
Contact: +92-51-8460149, +92-51-8460150