Olives Blog
Kashmir Solidarity29th Aug, 2019
Update
We are grateful to all the parents for encouraging and sending their children to participate in the cause. May Allah bless the people of Kashmir with freedom.
Click to view the pictures of the occassion.
Respected Parents
Assalam o Alaikum
Olives School will be joining hands tomorrow with the rest of Pakistan to show our solidarity and commitment for Kashmir.
Students of Class 3 and on wards along with the Teachers will participate in the solidarity stand at 12 noon inshaAllah.
Parents are requested to send their child to school along with a cap/hat, glasses and a water bottle. Off time will be 12:30pm
Off time for Play Group to Class 2 will be 11:30am
Tweets from Olives
Dated: 8th Feb 2021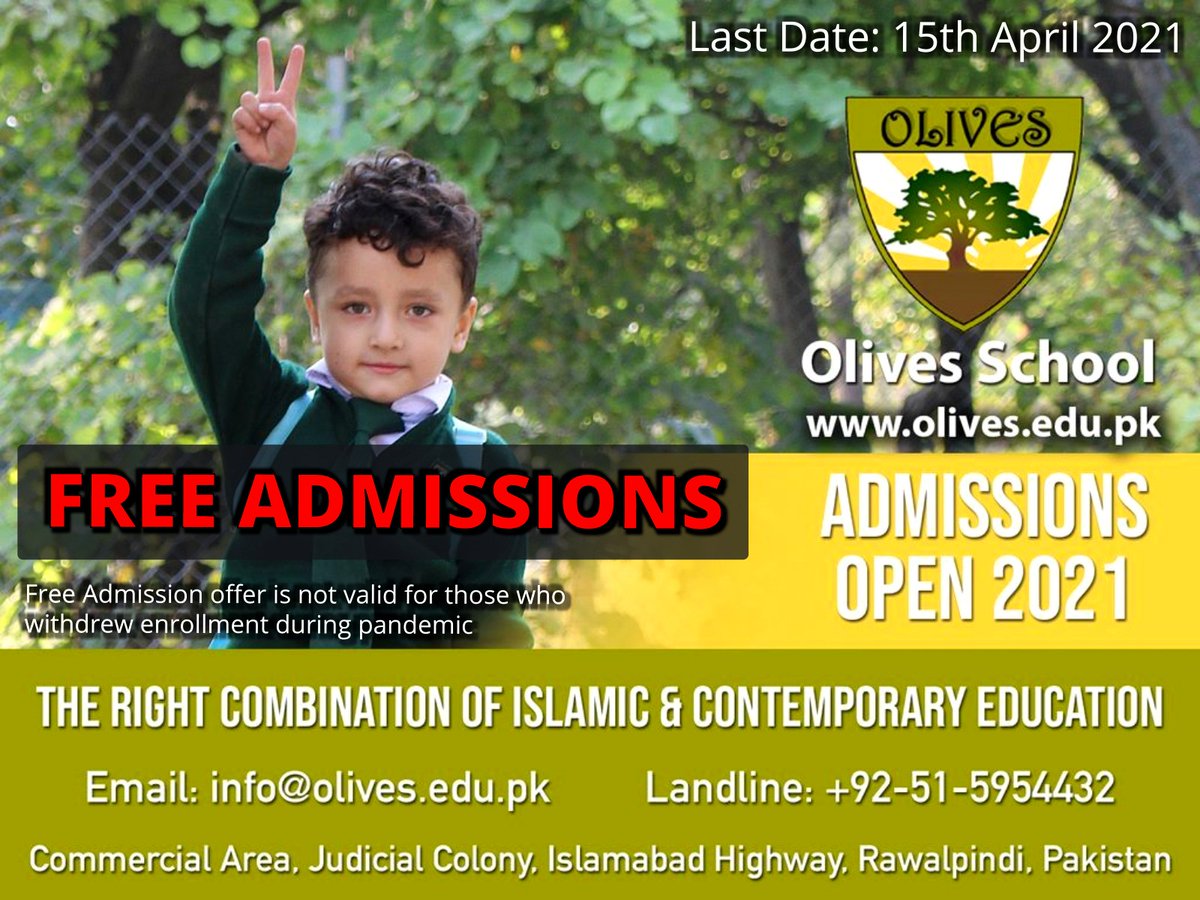 Admission Open for 2021-22 Academic Year. Give your child a chance to get #IslamicEducation along with Contemporary Education. Admission Charges have been waived-off till 15th April 2021.
For details:
https://olives.edu.pk/admissions
#Admissions #AdmissionOpen
---
Dated: 31st Jan 2021
Respected Parents
Assalam-o-Alaikum

As per government's notification, school will reopen from tomorrow, February 1st, inshaAllah. All SOPs for parents, teachers and students will be carried out as per previous practice.

Jazakumullah Khairan
---
Dated: 16th Jan 2021
Respected Parents
Assalam-o-Alaikum
As per government's revised announcement, Olives School will continue #OnlineClasses for all levels till Thursday, January 28th.
On-campus classes for all levels will commence from Monday, February 1st.
Jazakumullah Khairan
https://twitter.com/DrMuradPTI/status/1349974273327325186
---
Dated: 4th Jan 2021
2/2

On-campus classes for Pre-9, 9th, 10th & Hifz will commence from Monday, January 18th.

From Monday, January 25th the rest of classes will also be on-campus.

Jazakumullah Khairan
Contact Us
Email: info@olives.edu.pk
Junior & Girls Senior Campus
Commercial Area, Judicial Colony, Islamabad Highway, Rawalpindi, Pakistan
Academics Office: +92-51-5954432
Account Office: +92-51-5954242
Boys Senior Campus
House 96, Street 3, Sector 2, Airport Housing Society, Rawalpindi, Pakistan
Contact: +92-51-8460149, +92-51-8460150